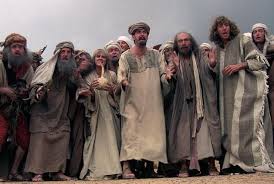 PRESENTED BY SCREEN NEXT THE SEA
at Alderman Peel High School, Market Lane, Wells NR23 1RB

SPECIAL EASTER BANK HOLIDAY SCREENING
Directed by Terry Jones and starring Graham Chapman, John Cleese, Terry Gilliam, Terry Jones and Michael Palin
Brian Cohen(Graham Chapman) is an average young Jewish man but through a series of bizarre events he gains a reputation as the messiah. When he's not dodging his followers or being scolded by his shrill mother (Terry Jones) the hapless Brian has to contend with the pompous Pontius Pilate(Michael Palin) . Rife with Monty Python's absurdity the tale finds Brian's life paralleling Biblical lore but with many more laughs.
Released to great controversy in 1979 it immediately became a huge box office success and now is regularly touted as the funniest British comedy of all time with such quotes as "What have the Romans ever done for us?" having become common parlance.